Celebrities always have a tremendously beautiful look on a red carpet – outfit, makeup, and hair. The hairstyles deserve special attention. No matter how long or short their hair is, celebrities always have beautiful updos. This means the length of hair doesn't influence the hairstyles you can do.
So, if you have a short haircut you can try doing hairstyles similarly to what Selena Gomez, Taylor Swift, Julianne Hough, Jessica Alba and others demonstrate on red carpet.
4 Updos for Short Hair
If you have a short haircut, you need to add a lot of texture before doing a messy updo. Use a dry texturizing spray.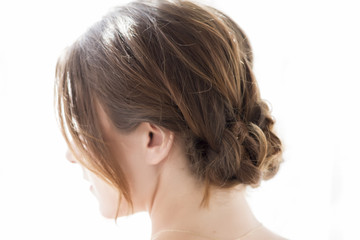 A samurai top knot. Gather all of your hair into a very high ponytail. Don't care about the short layers, which fall out from the bun. You'll do them later. On the last twist, pull hair through the elastic half way. Gather those pieces of your hair, which doesn't fit the bun and secure them with the bobby pins of a smaller size. Go back to the bun, take the ends of it, which you've left without pulling through the elastic. Wrap them around. Use hairpins to hold in place. Loosen the bun for a messier look. Voila! You're good to go.

Grab the top section of your hair, which you're going to braid. Do a Dutch braid on the top layers only. Move on to the back of the head. Secure the braid. Take all your hair, including the ends of the braid. Gather it into a high ponytail. Then, transform that ponytail into a messy bun. Loosen up a little bit for a more relaxed look.

Do a side parting. Grab two strands from one side and wrap them around each other, grabbing smaller strands from the sides. Add them to the twist as you move on with the braid. Use a hair tie. Do the same on the opposite side. Keep in mind, you don't have to use hair from the back of the head for the braid. Then, gather all hair back (including the braids) and secure it in a low ponytail. Create a bun. Pin it. Pull out a few strands in the front and style them with a curling iron.

Create a middle parting. Leave the front sections, gathering everything else into a low, messy bun. Take a bandana or a silk scarf. Scrunch. Put around the head. Tie underneath the bun. Make sure it is nice and secured well. Take the front sections, that you've left before and place them underneath the scarf. Put the ends of the scarf around the bun. Voila! The updo is ready. Bella Hadid, Rosie Huntington Whiteley, and Eva Mendes incorporate scarves into their hairstyles too.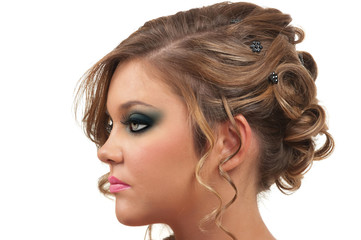 Now you know how to create a red carpet worthy hairstyles at home without having professional styling skills.