Girls are completely free in the choice of their haircut, because its number is almost endless. Variety of ponytails, creative cuts, colorful braids, loose waves and many many more. The internet is full of various creative variants, but some of them are too extraordinary for an average woman. In modern realities the right haircut should be easy to do, but elegant at the same time, especially for those busy women, who daily have a number of different business appointments, meetings with friends or just family evenings in restaurants. They usually have not so much time to style long hair, so their choice is a low maintenance medium length.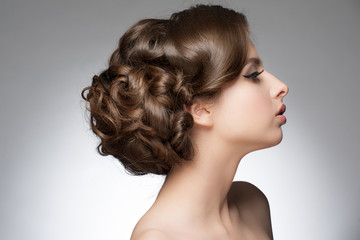 Medium hair is the golden mean in the world of hair. It takes not so much effort to make it look good than the long hair and it is easier to style than the short hair. Sometimes medium length is not enough for complicated updo hairstyles, but there is still a great number of variations to try.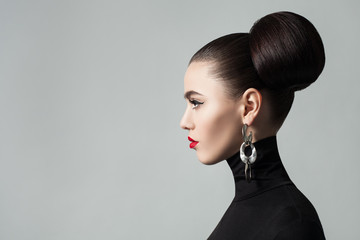 Best medium hair updos
This list of top 5 updo hairstyles for medium hair gives women an opportunity to spend less time with their hair every morning. Every hairstyle is very simple and needs only bobby pins, elastics and just a bit of creativity.
Two Twisted Braids.

The simplest way to create a nice looking bun is two messy braids twisted together in a cute voluminous bun. It could be low or at the top of the head. A wonderful style for non-formal occasions.  

Rope Updo.

Braids are easy to create, but there is something that looks like a braid and needs less time to make. It is a hair rope, just two parts of hair twisted into each other in one tight bun on the top.

Bohemian Bun.

A romantic rich hairstyle for gentle women, who want to show off their feminine side. This low one side loose bun is a nice choice for home parties with friends and relatives. It is very easy to create, but looks like it was made by a hairdresser.  

Top Knot.

Extremely

high super smooth knot on the top of the head like a variation of a bun. This sleek stylish look is the perfect choice for women who compiles all highest standards, but still be sassy and trendy. Super glossy hair looks both good at work and at parties.  

Greek Headband Updo.

A simple updo with a headband for lazy mornings to create something nice with a mid-length just in several seconds. Delicate twisted locks make the whole look romantic but still formal at the same time. It also suits for meetings with friends or evening dates.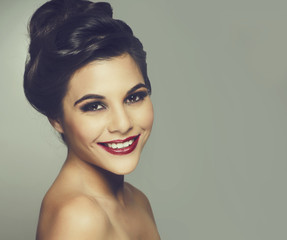 Busy women spend not so much time with their hair, but they still have to look good all the time. This is the reason they prefer medium hair. Mid-length hairstyles have a lot of variations of simple updos that are super easy to do when it is needed. Every woman can find the right for herself.