What can you do with naturally curly hair? Everything. You can do literally every hairstyle you want. A curly hair texture doesn't mean you can't do the same hairstyles as the girls with a straight texture do. Yes, the final result will differ from what you see on straight hair, but a curly texture should never stop you from wearing romantic, creative, and fun updos on a daily basis.
Updo hairstyles are something you can't go without if there is a heat challenge outside. In summer and fall when the weather is warm enough to not allow you to wear your hair down all day long because of the extremely high temperatures, go for an updo. It is easy, fast, and doesn't require special styling skills.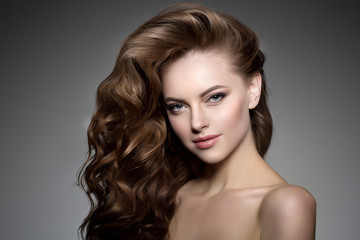 Updo Hairstyles for Curly Hair
The next three hairstyles are very simple and easy. You can try them even if you have straight hair. Just don't forget to curl it in advance.They are perfect for those days when you try different hairstyles but nothing works out. Try one of the following updos to get great hair fast.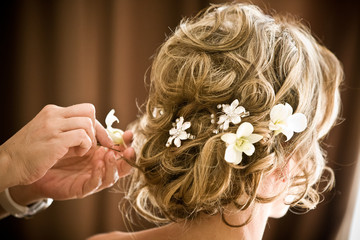 Pull your curls all the way back. Use an elastic to secure them in a low ponytail, pulling the curls through it one time only. The second time pull them halfway. Secure the ends with bobby pins to decorate the bun. Use a hairspray to finish the look.
If you have relaxed natural curls, make them tighter and give them more definition with a curling iron. Then, section the sides of your hair. You'll get a low ponytail and the curls pulled out in the front. Give more volume to your hair by loosening it above the elastic. Take small sections in the ponytail and twist them around to create small buns. Pin them to hold in place. Pin buns closely to each other, so they create one big bun at the end. Then, go to the front sections, you've left at the beginning and pull them back to wrap around the bun. Secure with bobby pins. Leave a few curls to frame the face for a more relaxed look.
The next hairstyle is for those who don't have bangs but really want to try wearing them even with curly hair. For the faux bangs updo, shake your hair forward, leave the front strands for the bangs and measure them to see how high you have to pull them up to create the length you want. Secure with bobby pins. Use as many bobby pins as needed. The bangs should hold tight. Grab the rest of your hair and pull it up into a messy bun.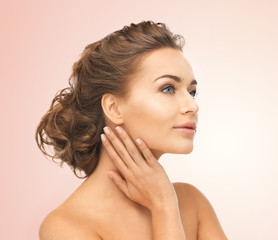 Try styling curly hair in a new way. Go for a romantic and creative updo.